2018 Conference Professional Development
The OAPN Professional Development Workshops are informative, interactive and practical. Led by experts in the field, each workshop is designed for all performing arts professionals. Whether you are a presenter, agent, manager, artist or consultant, workshops are jam packed with information you need now to work efficiently and effectively. Up your game and choose one of the following*:
*all workshops held Sunday 1pm-4:30pm at the Victoria Theatre.
Marketing for Artists and Agents
This professional development workshops covers current trends in marketing. Snail mail, email, print ads, brochures, radio/television, social marketing, posters, blogging and video promos will be analyzed and reviewed for their effectiveness. Exercises will include allocating your budget among the various platforms and creating time tables for publishing your marketing materials and targeting the right audience.
Heidi Schiller; Fairfield Community Arts Center, Fairfield, OH
Sue Stevens; Vice President-Marketing & Communications-Victoria Theatre Association, Dayton , OH
Robert Baird; BAM! Artists; Ontario, Canada
Contracts, Riders and Money, Oh My!
Find out how to streamline your contracts, what the going rates are for services and how to incorporate easy-to-use riders and stage plots. Learn strategies for handling an unwieldy rider or cancellation notice, and the best practices for advancing shows, insurance requests and what to do if your theater has issues with backline. Exercises include following through on the booking process from first contact to final contract. Stefan T. E. Thomas, Esq.,Thomas Ingram Law Group
Stefan T. E. Thomas, Esq.,Thomas Ingram Law Group
Larry Kosson, Partner/Agent Kosson Talent
Robin Spielberg, Contract Administrator/Partner Kosson Talent
Best Practices for Educational Materials for the "Teaching Artist"
What are educators looking for when it comes to study guides and curriculum correlation? How do you create a study guide and appeals to presenters and educators? Exercises include artists creating an outline for educational activities and descriptions, and presenters designing a written pitch to send to schools highlighting their offerings.
Emily Prince, Education Director, Stuart's Opera House
Gary Minyard, VP Education & Engagement, Victoria Theatre Association
Zara Lawler & Paul Fadoul, Teaching Artists
About our Workshop leaders:
Heidi Schiller

Heidi Schiller is the Arts & Programs Manager for the City of Fairfield, which includes the management of the Fairfield Community Arts Center. She not only oversees the day-to-day operations, activities, and arts programming for the Arts Center, but also oversees all of the community events for the City of Fairfield, including over 25 outdoor summer concerts or events. She is a graduate of the University of Hawaii with a MFA in Theatre / Directing. She currently serves on two local non-profit boards and served on the OAPN Board from 2011-2016. Heidi's dark secret is that she's a gamer-girl who still finds time to participate in a table-top RPG every two weeks.

Emily Prince

Emily Prince was born in Cleveland, raised in Mantua, and attended Ohio University. She has worked professionally in the arts as a director, dramaturg, musician, and administrator. She is currently the Education Director/Grants Coordinator at Stuart's Opera House. Her responsibilities include curriculum development, arts education related programming, and grant writing.

Zara Lawler & Paul Fadoul

Lawler & Fadoul are dedicated, engaging and creative educators. Through our many years performing for children and family audiences, we have developed a highly successful repertoire of interactive performances that captivate children and build their music
knowledge at the same time. Lawler + Fadoul perform more than 40 concerts a year as an In-School Ensemble for the National Symphony Orchestra.

Stefan Thomas

From negotiating reality television agreements to
negotiating celebrity artists agreements, Stefan's work in the
entertainment industry is wide ranging. He writes and speaks
at local and national events on issues important to the Arts,
offering advice to a myriad of artists including, musicians,
graphic designers, and dance companies. Stefan advises
clients on protecting their ideas and brands. He advises and
engages in copyright and trademark matters. Whether
negotiating or executing license agreements or filing for intellectual property rights, Stefan works diligently to ensure clients are protected.

Larry Kosson

Larry Kosson has worked as a talent agent for over 20 years, and along with Robin Spielberg, owns a boutique agency, Kosson Talent. The agency represents a select number of clients, including Black Violin, Jimmy Webb, and Gina Chavez. Larry is a voting member of The Grammy Awards, and is currently serving as President of Pennsylvania Presenters. He is the recipient of the prestigious NAPAMA Agent of of the Year award for Excellence in the Performing Arts. Larry has served as board member of the Association of Performing Arts Professionals and has facilitated a number of workshops and panels at music industry
conferences including SXSW.

Robin Spielberg

Steinway Artist Robin Spielberg has recorded 18 albums and has 25 years of touring experience. She is a partner of Kosson Talent and serves as the company's contract administrator, processing more than 300 contracts per year. Robin also serves as Secretary of the OAPN Board of Directors.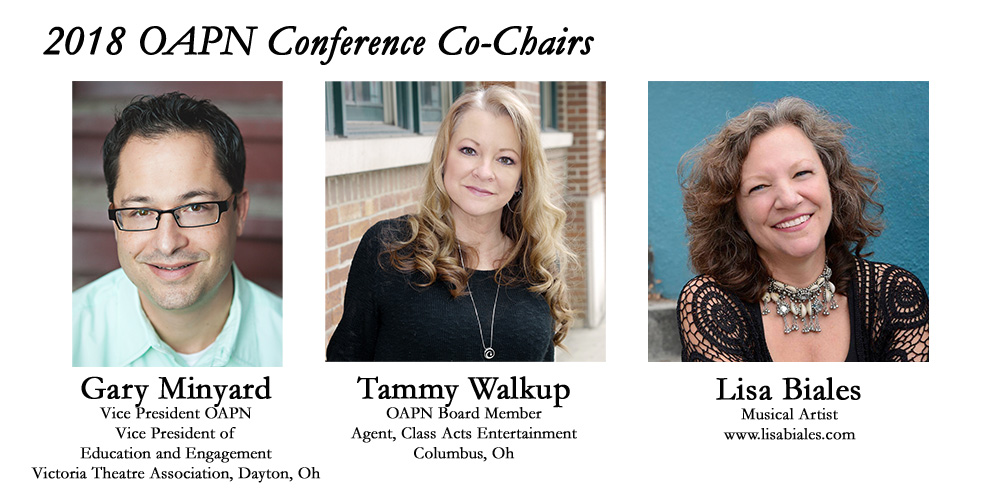 A Special Thank You to our Continued Conference Partners: