2018 OAPN Block Booking Conference Registration
October 14-16, 2018      Dayton, Ohio
$325 GENERAL REGISTRATION
3 Day Conference
In addition to exhibit hall and juried showcase access.
Your registration also includes:
OAPN opening party Sunday night 
OAPN luncheon (Monday) 
Official OAPN dinner (Monday) 
1 boxed lunch (Tuesday)
OAPN closing party (Tuesday night)
EXHIBITORS:
This is a creative conference and we encourage you to be creative with your booth space! Our theme: "Playing with a Full Deck" can incorporate card games, card motifs etc.
10' x 5' booth - $200 exhibitor -  includes table, black table cloth, 2 chairs and wastebasket. 
10' x 10' booth or 20' x 5' booth - $400 exhibitor -  includes table, black table cloth, 2 chairs and wastebasket. 

Exhibitors have an option of having a 6' or 8' table or no table in their exhibitor space.

Exhibitor Booth Power - $25.00 - Exhibitors should provide their own extension cord (up to 50') to ensure connection to the power source. All outlets are standard outlets. Please notify OAPN of any equipment that may draw more than typical power from a circuit.
PROFESSIONAL DEVELOPMENT:
The OAPN Professional Development Workshops are informative, interactive and practical. Led by experts in the field, each workshop is designed for all performing arts professionals. Whether you are a presenter, agent, manager, artist or consultant, workshops are jam packed with information you need now to work efficiently and effectively. Up your game and choose one of the following*:
*all workshops held Sunday 1pm-4:30pm at the Victoria Theatre.
Marketing for Artists and Agents
This professional development workshops covers current trends in marketing. Snail mail, email, print ads, brochures, radio/television, social marketing, posters, blogging and video promos will be analyzed and reviewed for their effectiveness. Exercises will include allocating your budget among the various platforms and creating time tables for publishing your marketing materials and targeting the right audience.
Heidi Schiller, Fairfield Community Arts Center, Fairfield, OH
Sue Stevens, Marketing & Communications, Victoria Theatre Association; Dayton, OH
Robert Baird, BAM! Ontario, Canada
Contracts, Riders and Money, Oh My! 
Find out how to streamline your contracts, what the going rates are for services and how to incorporate easy-to-use riders and stage plots. Learn strategies for handling an unwieldy rider or cancellation notice, and the best practices for advancing shows, insurance requests and what to do if your theater has issues with backline. Exercises include following through on the booking process from first contact to final contract.
Stefan T. E. Thomas, Esq.,Thomas Ingram Law Group
Larry Kosson, Partner/Agent Kosson Talent
Robin Spielberg, Contract Administrator/Partner Kosson Talent
Best Practices for Educational Materials for the "Teaching Artist"
What are educators looking for when it comes to study guides and curriculum correlation? How do you create a study guide and appeals to presenters and educators? Exercises include artists creating an outline for educational activities and descriptions, and presenters designing a written pitch to send to schools highlighting their offerings.
Emily Prince, Education Director, Stuart's Opera House
Gary Minyard, VP Education & Engagement, Victoria Theatre Association
Zara Lawler & Paul Fadoul, Teaching Artists
Want to register? Follow instructions below.
Click 'Membership' at the top of the website page.
Click 'Log In Membership Portal'.
Click 'Events Coming Up' on the menu on the left.
Scroll and find 2018 OAPN Block Booking Conference.
Click 'Register'.
Fill in your information and follow the instructions.
Hotel Accommodations

33 East Fifth Street
Dayton, Oh 45402
Special Conference Rate
Standard Guestroom $119/night
Roll Away- limited number not guaranteed $10.00/night
To reserve your room call: (800) 689-5586
Request the group rate for Ohio Arts Professionals Network
Cut off date: September 14, 2018 at 12:01am 
Crowne Plaza accepts the following credit cards: American Express, Visa, MasterCard, Optima, Diners Club, Carte Blanche, and Discover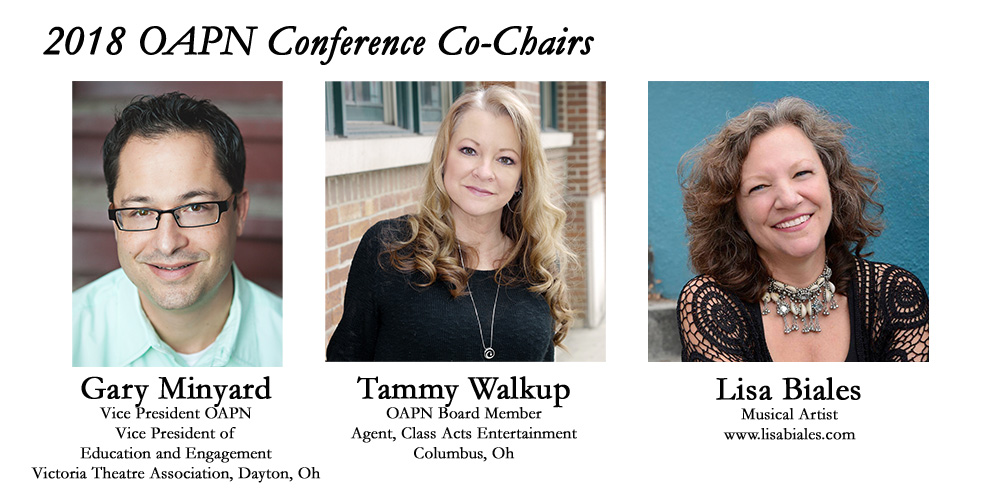 A Special Thank You to our Continued Conference Partners: